Blogs and social media in several lanquages picked up on articles. To date Goy has been written about in English, Thai, Dutch, German, Japanese, Chinese, Spanish and Korean.
For more information go to the contact page
Chiang Mai Citylife - May 2018
Chiang Mai CityNews 2017
Local Thai Artist Launches BubbleShoes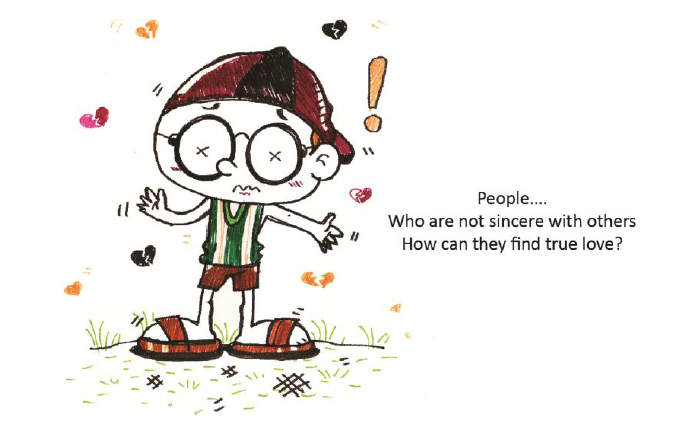 Supinya 'Goy' Kankankul hails from Chiang Mai and has had several well received art exhibitions in recent times. Her latest work, BubbleShoes is a series of cartoon images with messages that are derived from the trials and revelations of childhood, some images present the magical wisdom of innocence while others recreate her deeper philosophical reflections over those early milestones of her journey.
The debut series has been translated from Thai into English, French and Chinese, with Dutch, German, Korean, Spanish, Italian and Japanese translations coming soon.
For those in Chiang Mai this month, visit Jethro's Lounge, a Belgian restaurant in town from December 1st to January 31st 2018 and see the work for yourself.
12/8 Soi 2, Ratchiangsean Road, Chiang Mai
086 195 3845
Smashwords - November 2017

Interview with author R.A. Gregory
What is your writing process?
I tend to come up with an idea and then sleep on it (quite literally) for a while, before starting writing. In the case of 'Death and the Schoolboy', I jotted down some brief chapter points to follow and then just started writing. The sequel, 'Death and the Atomb Bomb' was a bit more tricky and I needed to map out the story in slightly more detail, but I'm not one of these people who plan a book out to the point where they're just filling in the blanks. And in the case of 'Drynwideon – The Sword of Destiny (Yeah, Right)', which is due out in early 2018, I got the idea for it when I was a bit poorly with pneumonia in mid-2017 and then wrote it down without chapter notes or anything. That has been my favourite so far, because I was totally immersed in the adventure and had no idea what was going to happen next. There's something beautiful when that happens. It's like you become a priviledged spectator inside your own mind and some hidden part of your brain, which normally lurks unseen at the back of your skull, takes over and produces all these brilliant and crazy situations, which the rest of you writes down almost unconsciously. I hope I get to write more books like that in the future. It's great fun.
How do you approach cover design?
Painfully! I ended up doing the covers for my first two books on my own and to be honest the results were, shall we say, somewhat lacking, although I must admit that they do have a certain quirky charm that quite possibly reflects the content better than a professional cover could. I also learnt a lot of things during the cover design process, including the fact that a fine artist I am not and that there are many people out there who are better at it than me, so I'd probably be wise to work with them instead. And that's what I did. For Drynwideon, my latest book, I collaborated with a local artist in Chiang Mai, Goy Kankanakul, to do the cover images. All I did was compile them into a cover and add the text. The final result looks a lot better than my earlier efforts, that is for sure. As for the future, well it will depend on the style of book I'm writing at the time, but I think that I'll definitely be using professional artists and possibly layout experts for sure!
29/11/2017
CHANG PUAK Magazine - November 2017
CHANG PUAK Magazine
Cartoon's Premier. Meet the Artist!
BubbleShoes©, cartoon by Chiang Mai Artist, translated from Thai to English, French and Chinese language.
Exhibition and presentation everyday from December 1st to January 31st at Jethro's Lounge-Chiang Mai.
Emerging Thai artist Supinya 'Goy' Kankanakul presents EXHIBLITZ. Displaying new works since her graduation from Chiang Mai University in 2016.
After five simultaneous small but wonderful Exhiblitz exhibitions, Chiang Mai artist Supinya 'Goy' Kankanakul returns with BubbleShoes©, her latest creation.
Derived from the trials and revelations of childhood, some images present the magical wisdom of innocence while others recreate her deeper philosophical reflections over those early milestones of her journey. You choose.
BubbleShoes© is about to be unleashed all over the planet. For more info about artist Goy and her work, check out: https://www.exhiblitz.com/
And see you at Jethro's Lounge: 12/8 Soi2 Ratchiangsean Road. Chiang Mai
https://www.facebook.com/pages/Jethro-s-Lounge/134473106709763
28/11/2017
The Bangkokpost - september 2017
CHIANG MAI TALENT ON THE RISE
EXHIBLITZ, CHIANG MAI, UNTIL SEP 30
OK, it's not Bangkok but if you're an art fanatic then you should really be in Chiang Mai right about now, which is currently being dubbed as the Art Capital of Southeast Asia. Emerging Chiang Mai artist Supinya "Goy" Kankanakul's exhibition consists of a series of limited edition Giclée prints from recent works, taking place in four different locations across the city of Chiang Mai during this beautiful month of September. The locations include Clark Gallery, U.N. Irish Pub , Bakery and Restaurant, 2Gether Bar and Restaurant and Jethro's Lounge. Various locations across Chiang Mai. For more information, contact 081-783-3279, email brianbeerwah@gmail.com or visit www.exhiblitz.com.
City Now - Chiang Mai

Trefpunt Azië - august 2017 (Dutch)
KUNSTENARES UIT CHIANG MAI MET VERFIJNDE PENTECHNIEK
Goy Supinya Kankanakul  kwam  23 jaar geleden ter wereld als deel van een drieling. The Triplings worden zij en haar twee zussen in het artistieke circuit van Chiang Mai dan ook genoemd. Alle drie hebben een opleiding gevolgd in de beeldende kunst.
Onder de naam EXHIBLITZ start op de eerste dag van september een tentoonstelling van Goy op vier verschillende plaatsen in Chiangmai waar Giclée drukken van haar recente werk worden getoond. Het is de eerste maal dat ze een dergelijke expositie heeft. Begin volgend jaar komt haar originele werk te hangen in de prestigieuze kunstgalerie The Meeting Room Art Café, eveneens in Chiang Mai.
Goy heeft een verfijnde techniek ontwikkeld waarbij ze uitsluitend gebruik maakt van z.g. fineliners (speciale inktpennen ) Ze maakt zeer delicaat werk dat ergens doet denken aan het pointillisme uit de 19de eeuw. Ze begint met de lichtere kleuren om na het drogen van de inkt de donkerdere tinten aan te brengen. Aan haar grote schilderijen is ze soms wekenlang bezig
Flowers
Coffee beans
EXHIBLITZ loopt van 1-30 September 2017. Haar werk is ook als poster te bestellen. Voor meer inlichtingen: a.artct.cmx@gmail.com